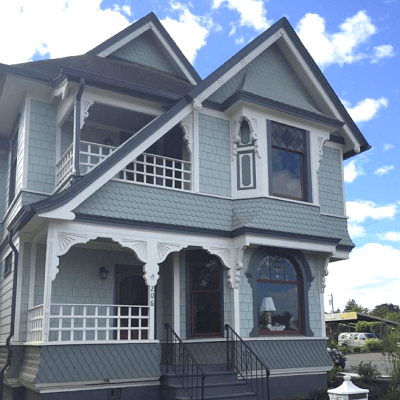 About the Victorian on 10th
Since purchasing land in Oregon's Willamette Valley 12 years ago, Paul and Maria Wronski have dreamed of opening a dog friendly vacation rental in a historic building conveniently located to shops and restaurants. That opportunity came last year when they purchased the Frank E. Roger's Queen Anne Victorian at the corner of Baker and 10th. Built in 1896 and designated with the highest significance on McMinnville's Historic Register, the building was in dire need of extensive restoration. Maria could see the potential of this tattered and worn building and had a vision of bringing the Grand Dame back to her original glory.
While Paul focused on his vineyard in the Eola-Amity Hills and honed his newly crafted wine making skills - Maria undertook the management of the year-long renovations to the Victorian. Her efforts culminated with the opening of the Inn this past winter.
Traveling around the world, spending time with their dogs, enjoying fine food and wine, connecting with friends and family and collecting antiques are cornerstones of Paul and Maria's life. They hope like minded travelers will appreciate what they have created at The Victorian on 10th!
Featured in Roots to Roofs, the News Register's quarterly Real Estate guide (fall 2015), The Victorian on 10th was showcased for it's quality renovations and period authenticities. Now open to those looking to experience modern comforts while appreciating craftsman details found only in turn-of-the-century architecture. Plan your stay at The Victorian on 10th . The dog friendly inn has been lovingly restored to it's original 1896 Queen Anne Victorian beauty and offers a "home away from home" quality. The 2,600 square foot Victorian in the heart of the Willamette Valley Wine Country, has fully equipped apartments and kitchens include local artisan pastries, farm to table fruit, fresh dairy and juice, and premium coffee and teas.
Daily, weekly and long term rates available. Rates vary by season.